Do you love flipside? Tired of the same old faces? Hate to play with a "twin?" Get a new, unique face for your own!
Throughout this site are faces I've created for your use. All I ask is that you feature this site (http://swtogirl.tripod.com/facemaker) on your user profile for one week. Not too much to ask for some cool lookin' faces, huh?
You must read and agree to my terms before viewing and downloading any faces.
These faces are zipped for downloading. To use these faces, you must have WinZip, or a similar program. Click on the graphic below to dowload WinZip for free.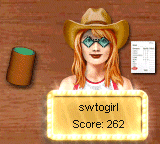 Graphic Design Provided by Suzanne Roman